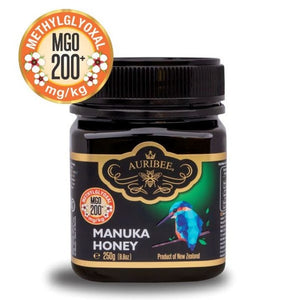 100% Natural, raw manuka honey from New Zealand. Contains at least 200 mg Methylglyoxal per kg Manuka Honey.

Auribee Manuka Honey is made from the nectar of Manuka Flowers, which grow on a kind of shrubby tree, the Leptospermum scoparium. This Manuka tree grows mainly in the wild, unspoilt natural areas of New Zealand.

Auribee Manuka honey is known for its golden brown color, creamy consistency, delicious taste and unique properties. It is the only food in the world that has been found to date with significant MGO content ranging from 20 mg/kg to over 800 mg/kg!

All our products are harvested, processed and packaged in New Zealand, ensuring that they meet New Zealand's highest quality standards. The higher the MGO content, the more powerful the unique antibacterial properties.
Ingredients: 100% Pure Monofloral Manuka Honey