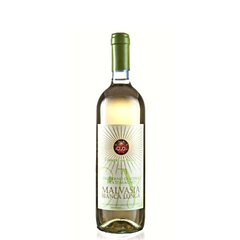 The grapes for this wine are hand harvested in the morning of a single day to preserve the integrity of the fruit. The first selection is made in the vineyard during harvesting, the second before destemming. The grapes are gently pressed and then age in stainless steel vats.
Malvasia del Chianti is a special variety, often used in blends to produce Vin Santo, a Tuscan dessert wine. It's not an easy task to make a 100% Malvasia vinification. This is the reason why we produce only a small quantity of Malvasia Wine.
TASTING NOTES
Made with the autochtonous grape variety Malvasia Bianca
Lunga known as Malvasia Bianca Lunga del Chianti, a white grape from
the Tuscan tradition, it is cultivated to produce a fresh wine, greatly enjoyable and due to its characteristics and organoleptic qualities, ready just a few months after the harvest. Straw yellow color with green nuances, intense scents of hawthorn, gorse, and white pulp fruits. The nice freshness is underlined by tones of almonds. The mild aromaticity delights the drinker as a particular expression of the grape in his authentic Terroir.
WINE CHARACTERISTICS:
Typology: White Dry
Grape Varieties: Malvasia del Chianti
Region: Valdarno di Sopra DOC, Italy
Vintage: 2019
Volume: 75cl
Alcohol: 14%
Allergy: Contains Sulfites