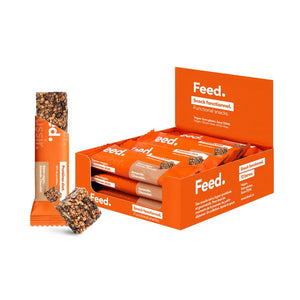 30% PROTEIN
A bar designed for athletes, ultra-protein, ideal for muscle building and recovery!

VEGAN AND GLUTEN FREE
Unlike other high protein bars, our recipe is guaranteed without milk or gluten to take care of the digestive system.

PROTEIN FROM PEA, SOY AND ALMONDS
The optimal trio of vegetable proteins to provide all the amino acids essential for building muscles.

ONLY 4G OF SUGARS
A unique formula with very little sugar to stay in good shape and avoid spikes in blood sugar.

ULTRA-CRISPY
Puffed billets and pieces of cocoa beans and almonds for an ultra-delicious crunchy and crispy texture.

COCOA BEANS
Very rich in polyphenols, cocoa beans are powerful antioxidants. They protect the body against oxidative stress linked to intense physical effort.
List of ingredients
In the Almond Shot Protein bar. Chocolate.

SOY and pea proteins, chickpea billets, fructooligosaccharides, humectants: maltitol syrup, glycerol and sorbitol, chocolate chips (6.9%) (sugar, cocoa mass, cocoa butter, emulsifier: lecithin of SOY, natural vanilla flavor), soy protein isolate, roasted cocoa nibs (6%), sugar, ALMOND nibs (5.2%), starch, sunflower oil, lean cocoa powder, flavor natural cocoa, chickpea fiber, corn fiber, cocoa powder, stabilizer: calcium carbonate, vanilla flavoring, salt, emulsifiers: fatty acid sugar esters and SOY lecithin, antioxidant: alpha-tocopherol.

May contain traces of gluten, milk, peanuts, egg, sulphites and nuts.