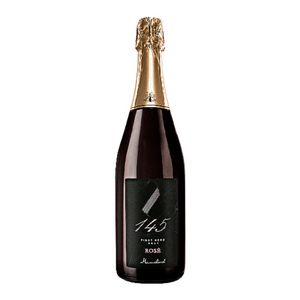 This Metodo Classico sparkling wine is produced with grapes grown in an estate vineyard identified as parcel n. 145 on the land registry of the municipality of Santa Maria della Versa. The grapes are harvested by hand at the end of August. The grapes are softly pressed into a membrane pneumatic press: the resulting must is left to soak with the skins for one night to give the wine the desired rosé colour. The skins are then removed and the must is clarified. The alcoholic fermentation is started using selected yeasts and is carried out at a controlled temperature. Once the fermentation is completed, the base-wine is racked and is then ready for the secondary fermentation. The secondary fermentation takes place in the bottle and the wine ages on the lees for a minimum of 36 months at a controlled temperature. 
TASTING NOTES:
This wine has a rich and complex nose with notes of wild red fruits and yeast. Minerality compliments hints of citrus and rose.
WINE CHARACTERISTICS:
Typology: Brut Traditional Method Sparkling Rose Wine
Grape Varieties: Pinot Noir
Region: Oltrepo Pavese, Italy
Vintage: 2018
Volume: 75cl
Alcohol: 12.5%
Pairing:  A wonderful apertif, but it could be paired with meats (even with bold-flavoured sauces), medium-aged cheese and shellfish or even fruit salad.
Allergens: Contains Sulphites