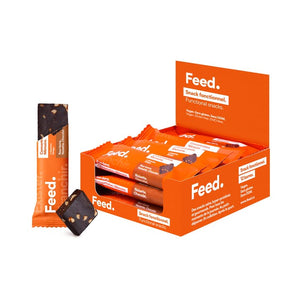 ONLY 150 KCAL: Replenish your energy or calm a little hunger in a healthy way and without feeling guilty. Contains only sugars naturally present in fruits.
A very high fiber content with a satietogenic effect. Perfect for cutting small appetites.

20% VEGETABLE PROTEIN: Very high quality 100% vegetable proteins for lasting satiety.

SUPERFOODS: Ginkgo facilitates blood circulation in the brain and thus improves memory, concentration and psychological resistance to work. It's a real boost. L-theanine reduces stress and improves the quality of sleep. This increases attention and responsiveness during the day and boosts visual and auditory memory. Ginseng stimulates cognitive functions. That is to say, it boosts the capacity for work and intellectual concentration. It is a real ally in times of intense work.

VITAMINS AND MINERALS: Vitamins C, B6 and B12 help fight against temporary fatigue. They boost the nervous system and facilitate learning. Zinc improves vision! An essential faculty to maintain a high level of productivity.
ENVIRONMENT: A 100% vegan, gluten-free, GMO-free bar. Recycled and recyclable cardboard packaging. Long shelf life of bars to avoid food waste.
List of ingredients
Dates, SOY proteins, HAZELNUTS (18%) in paste and pieces, cocoa mass (12%), low-fat cocoa powder (1%), natural hazelnut and chocolate flavors, ginkgo biloba, L-theanine, extract of ginseng, vitamins (C, B6 and B12), zinc.

May contain traces of nuts and sesame.
Composition
Dates,
Rice protein,
Hazelnut paste,
Raw cocoa,
"* Vitamins: C, B3, E, B5, B2, B6 B1, A, B9, K, B8, D, B12
Minerals: Dipotassium phosphate, potassium chloride, calcium carbonate, magnesium oxide, iron gluconate, zinc gluconate, manganese sulphate, copper gluconate, potassium iodide, sodium selenite, sodium molybdate, chromium picolinate "
HAZELNUT,
Chicory fibers,
Coconut oil,