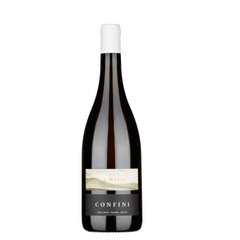 Pinot Grigio is this wine's skeleton, as it brings structure, depth, softness and heat. Traminer is important for what concerns aromatic qualities and nose sensations, while Riesling makes it reach a balance with acidity in order to exalt its complexity.   Superior structure and to be able to surprise with time. 
TASTING NOTES
The brilliant ageing of this cuvée gives a dense texture of floral and spicy flavours. The warm sip reminds of young and balsamic Madeiras. 
WINE CHARACTERISTICS:
Typology: White Dry
Grape Varieties: Pinot Grigio, Gewürztraminer, Riesling 
Region: Friuli Venezia Giulia, Italy
Vintage: 2015
Volume: 75cl
Alcohol: 14.5%
Pairing: Great with spicy finger food. 
Allergens: Contains Sulphites